TO YOUR WAY:
From small to very large
Every event – from a family celebration in a small circle to a large-scale business event – has its very own character: In order for this to really come into its own, we offer you other attractive partner locations in addition to our Hotel Residenz 23.
The spatial conditions are based on the desired atmosphere for your event and the number of guests. We operate some of these locations ourselves, with others we have established partnerships.
Tradition-conscious and modern: Our main building, the Hotel "Zur Krone" in Löhnberg, has already been writing 190 years of success in the eighth generation. Family atmosphere and a competent team of employees ensure a pleasant stay. Of course, a nice hotel also needs a good restaurant! The kitchen team serves regional and international dishes every day. Visit our headquarters in Löhnberg! The Krone team is looking forward to your visit!
Exclusive ambience and pure feel-good atmosphere: The kitchen and service team at training restaurant "Georgs Limburg" has been doing everything possible for over 20 years to spoil you with culinary delights in a pleasant, enjoyable atmosphere: at the heart of the restaurant are our trainees, who are accompanied during their training by our internal trainers and thus receive a piece of "table culture" in the local region and counteract the shortage of skilled workers in the industry.
Apply NOW and get to know the versatility of gastronomy!
On weekdays we offer you our lunch menu from 11:30 a.m. to 4:00 p.m. For your own event outside the normal opening hours, you can rent the "Georgs Limburg" exclusively subject to availability. All event inquiries at: info@georgs-limburg.de
In the heart of the cathedral city of Limburg, the Bowlhouse presents 9 modern bowling lanes (cable systems), a SKY sports bar on up to 19 monitors (Champions League, Europa League Bundesliga, DFB Pokal always LIVE in HD), a cocktail bar and smokers lounge as well as a wide range of food and drinks.
BEST WHISKEY BAR GERMANY 2009. The extraordinary ambience of the Villa Konthor guarantees you a unique and unforgettable experience in the world of whiskey, chocolate and wine.
The Stadthalle Limburg has been a fixture for shows, culture, conferences, congresses, galas and events of all kinds for two decades.
Representative and spacious rooms in an extraordinary, architectural ambience. An absolutely changeable location with an exclusive flair that adapts to your wishes and requirements.
One of the oldest pubs in Limburg's old town. The "Batzewert" restaurant can now look back on a 188-year tradition.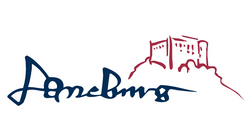 Enjoyment knows almost no limits: Discover a fascinating combination of the Middle Ages and modernity in the Laneburg in Löhnberg.